Atmonia Nitrogen Electrolyser
Atmonia is developing a Nitrogen Electrolyser that applies our novel catalyst in an electrochemical cell to reduce atmospheric nitrogen and split water to form ammonia – in a single step process. The ammonia can be collected either as the traditional pressurized anhydrous ammonia or as aqueous ammonia for direct use as fertilizer.
This breakthrough technology enables a major disruption of the ammonia market.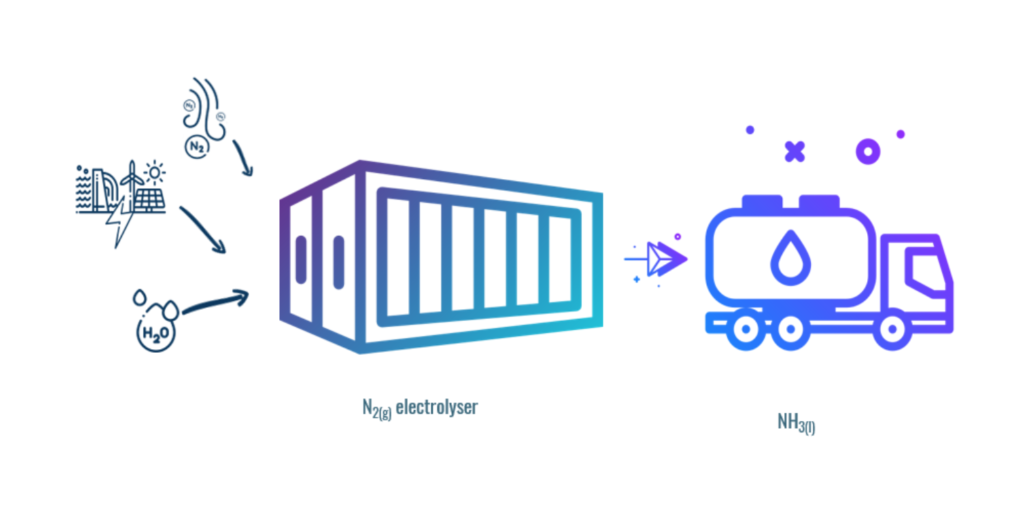 Low CAPEX
As a simple, single step process, using catalysts free of precious metals, it has a significantly lower CAPEX for installation than traditional ammonia production, and can be installed in steps if needed by stacking units.
Minimal turn off cost
Running at ambient temperatures and pressures, powering the systems up and down is both fast and economical. That is ideal to couple with renewable electricity sources like solar and wind energy that is intermittent by nature and gives the opportunities to utilize low price or currently curtailed electricity.
Distributed
Simple system operation enables smaller production units for a distributed production, closer to the point of use. Units of 150 t/y production capacity enables use of stranded electricity and smaller pockets of available energy. It can then be stacked for larger scale facilities when suitable.
The Nitrification System
Atmonia is also developing a supplemental technology where sustainable nitrate fertilizer is produced from ammonia via a biological process (patent pending).
Read more